The new video of Forel "High Tech" IG line with thermoplastic spacer is online. This IG line, displayed at GlassBuild America'21 and Vitrum 21, is a completely automated system managed by a single workstation (following the principles of industry 4.0), guaranteeing optimum precision and productivity.
Making its début in this solution is the new Art. TA applicator, designed to perfectly position the product on the basis of two key principles: productivity and ease of use. The coupling press with gas filling Art. AP has been enriched with a dedicated option for processing the IG unit with thermoplastic spacer. In any case however, this solution can also process panes with a rigid frame.
The final step is entrusted to the Art. SR "High Tech" sealing robot, which has already earned widespread appreciation for the production of rigid and flexible spacer and has also proved perfectly suitable for thermoplastic products.
The process is completed with the innovative automatic unloading system Art. GU, developed to suit the specific nature of this type of insulating glass, but useful also for IG units with traditional or flexible spacer, as a new resource of integrated logistics inside the glassworks.
Thermoplastic Spacer Applicator Art. TA
The Art. TA interface already includes all the most widely used work programs and specific options for thermoplastic products: simple, intuitive and user-friendly.
In accordance with the production program loaded onto the line server, the applicator automatically configures all the working parameters involved and executes the process quickly and reliably. This means that operations such as changing the thickness of the spacer are carried out completely automatically with no action by the operator.
---
Glass Unloader Art. GU
Positioned after the sealing phase, the automatic unloader Art. GU meets the need for automation, flexibility and safety in glazing factories. The automatic unloader is compatible with every kind of IG unit (with rigid, plastic or thermoplastic spacer) and allows the unloading of the panes using an original system of racks on rails.
The handling tool is equipped with suction cups and a serie of mobile supports on the lower side, to provide a firm grip and full support for the unit, including triple glazed ones.
Thanks to a feeler system, every glass pane is laid correctly on the previous one.
The Art. GU automatic unloader, however, doesn't just perform a task: it's a sophisticated tool for logistics 4.0.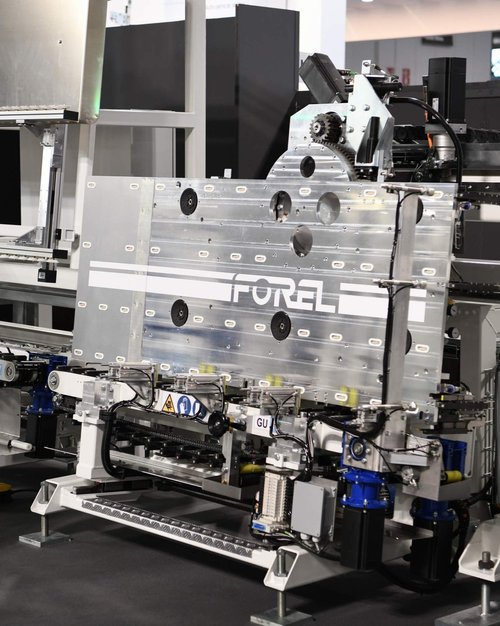 Glass Unloader Art. GU at Vitrum '21